Food
Top 15 Famous Singapore Foods In 2022 – Don't Miss Out!
If there is something that all of us like to do, then it is to eat. Eating great food is a way to learn about cultures that are different from ours.
So, if you are someone who has been trying to get your hands on delicious food and that too from Singapore, you might have just found the right place.
Keep on reading this article till the end to learn about some of the best and most famous Singapore food in 2022…
Best Singapore Food In 2022: Top 15 Edition!
In case you are a foodie and have been thinking about some of the best recipes to try and eat, Singapore food is one that you should try.
Here are the best fifteen Singapore food that you need to try in 2022:
1. Hainanese Chicken Rice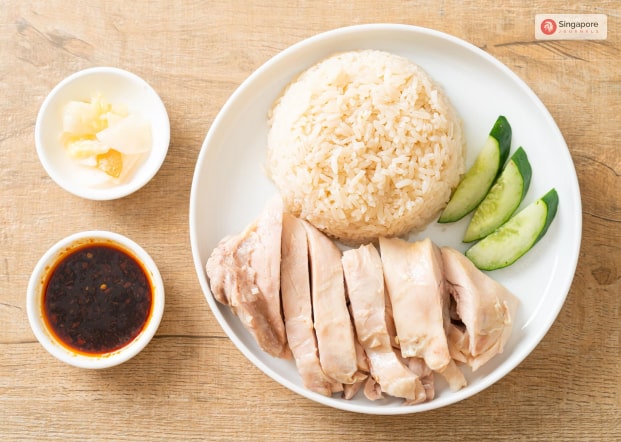 I am putting this first as it is the national dish of Singapore. But, at the same, it is definitely one of the easiest and the most comforting foods that you can find in the country.
Though it looks pretty simple to the eyes, the food is flavorful. The chicken is poached or roasted with aromatic herbs before being sliced and served on the bed of fragrant rice that is cooked with pandan leaves, ginger, and more.
2. Chili Crab
Also known as the black pepper crab, the chili crab is yet another Singapore food that is often referred to as the national dish of the land. And if you plan to visit the country, your visit will remain incomplete without tasting this dish on the menu.
This food is cooked with lots of fresh pepper along with butter. The hot kick of the pepper, along with the meat of the sweet and fresh crab, is the reason why it is so famous. And oh! Let's not forget the salty egg yolk that adds to the richness of the crab.
3. Bak Kut Teh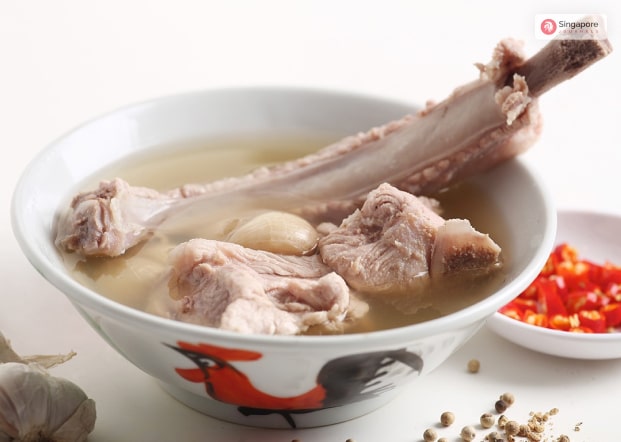 Bak Kut Teh, which loosely translates to Pork Ribs Soup, is one of the oldest meals that you can find in the country. If you are looking for some Singapore Chinese food, then you will find plenty of stalls and restaurants that serve you, Bak Kut Teh.
The pork meat is infused with Chinese herbs and aromatic spices. After being seasoned with soya sauce, the soup is cooked for hours till the meat falls off the bones. After that, it is generally eaten with rice or as it is. And if you want to make it at home, you can do that or even make it halal by replacing pork with chicken.
4. Nasi Lemak
You must have heard the fact that there are many foods from several other cuisines that you can find in the country of Singapore. One of the best-known Singapore food is Nasi Lemak. It is a Malaysian dish that is very famous in Singapore as well.
The central and the most crucial part of the dish is its fragrant drive that is cooked in coconut milk and served with chicken wings, cooked or fried anchovies, and the famous chili paste, which is called sambal. If you are looking for a hearty meal, then this is the one for you.
5. Fried Hokkien Mee
The dish gets its name from the Hokkien province in China. It is a great blend of Singaporean and Malaysian food that changes with what you put in it while preparing.
It is a noodle dish that is a bit saltier than other dishes. But nonetheless, it is delicious and highly suitable for the palate. It is served in a meat broth that acts as a soup, along with shrimp.
6. Laksa
If there is one dish that has the best of Malaysia as well as Singaporean cuisine, then it is Laska. It is a dish that is made with noodles. Most of the time, these are rice noodles or mei fun.
There are many ingredients that go into making this dish, like chicken, fish cakes, and shrimp. But the best part of the dish is the broth or soup that is made from coconut milk.
7. Chai Tow Kway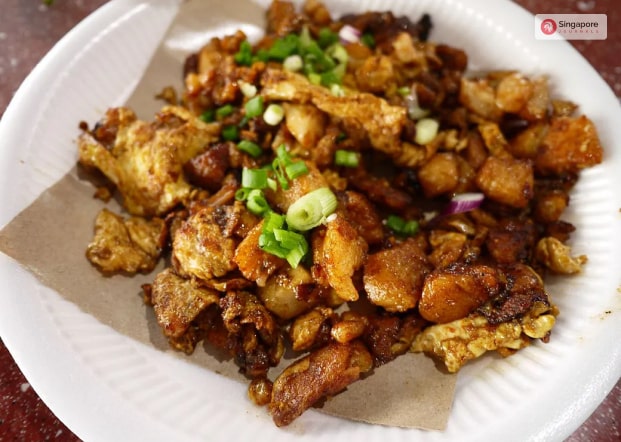 Also popularly called the carrot cake, it is one of the best and easy-to-cook snacks in the country. Made with rice flour and carrots or daikon and then fried in pork fat or lard with eggs, it is known to be greasy and tasty, one of the best street foods in the country.
Many people who have tried this item have mentioned that it sounds like a rendition of the famous western food in Singapore, which is the carrot cake. However, it is not really a dessert. So do not be fooled by the name.
8. Fish Head Curry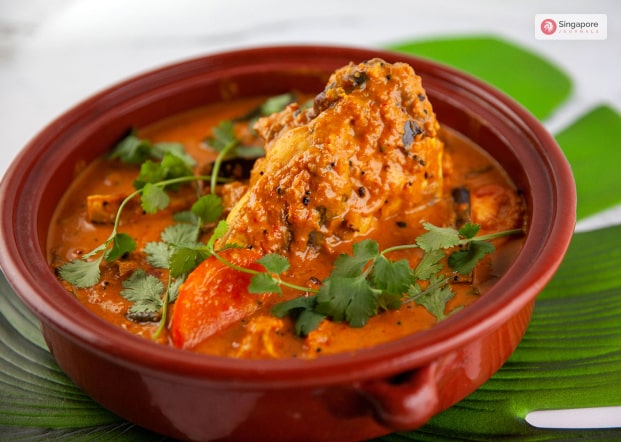 This famous Singapore food is made by either using the entire fish or just the head of the head of the fish. Singapore has some of the best fish in the world, and that is mainly because fish is found in abundance here.
The fish head curry is cooked with multiple vegetables and served with bread or rice, as per your choice. The one thing that makes it different from all other fish dishes is the use of the local lemon or lime juice, which is known as calamansi.
9. Oyster Omelet
Another easy-to-cook and cheap food that you can find in Singapore is the Oyster Omelet. It is a very simple dish that is made with oysters and, you got that right, eggs.
But is that all that goes into making the best Oyster Omelet? To make the omelet softer and thicker, people in Singapore mix flour. This makes the omelet much more filling. This omelet is often served with coriander or parsley leaves and a spic sauce.
10. Pork Satay
Satay is grilled skewered meat that is often served with peanut sauce and rice or rice cake. It is often considered the best starter. While most people in Singapore prefer Pork Satay, there are many people who make the dish with chicken, beef, or even fish.
It is a classic Singapore food that is enjoyed as a late-night snack in many roadside stalls in the country. With bamboo skewers, the food is extremely easy to eat. This means you can just eat it on the go without worrying about getting your hands dirty.
11. Kaya Toast
Looking for some easy breakfast in Singapore. The Kaya Toast is the one that you should try. Kaya is a sweet spread that has a jam-like consistency. It is very popular in the country and is often served in many coffee shops.
The Kaya toast is made with eggs and smothered with butter, and some Kaya, of course. It is often served with eggs and coffee.
12. Otak Otak
Another dish that is a mixture of Malaysian and Singaporean cuisine is Otak Otak. It is a specialty of the Nyonya cuisine that means the descendants of the people who were immigrants from China.
There are many famous food bloggers in Singapore who have made sure that people get to know about this classic dish. What is it? It is a steamy, comforting fish cake that is made by mixing cornstarch with fish which is steamed after wrapping in a banana leaf.
13. Char Kway Teow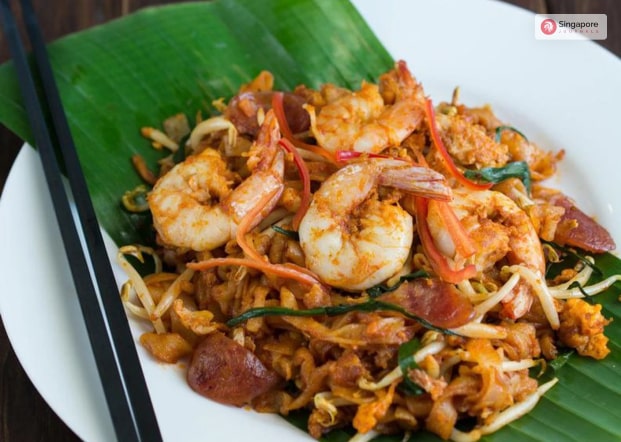 One of the most popular and the ultimate favorites of the locals is Char Kway Teow. It is made of flat rice noodles that are stir-fried with some eggs and soya sauce.
Because of its texture and the number of vegetables that go into making it, it is often said to be similar to Pad Thai. Along with spiced beans, sprouts, and spicy shrimp paste, this is one of the best dishes that you would want for coming back from a hangover!
14. Wanton Mee
Wantons are very similar to dim sums, but these are fried. That is the reason why this dish is called a great snack. It is a Cantonese dish that is made with chicken or pork, the meat of your choice.
It is served hot with a steaming bowl of soup or with your preferred choice of noodles. So if you visit Singapore, remember that it won't be easy for you to simply pass by a stall selling Wanton Mee.
15. Barbeque Stingray
Also called the Sambal Stingray, this is the last on the list. But hey, don't think that it is less compared to the other items on the list of best Singapore food.
The barbeque sambal Stingray is a spicy fish dish that is made by marinating the fish in a spicy sauce and then grilling it on high heat after wrapping it with banana leaves. If you are someone who likes spicy and tangy food, then you will surely love this one!
Frequently Asked Questions (FAQs):-
Now that you're almost at the end of this article, I hope that most of your questions and doubts have already been answered. Here are some of the questions that users frequently ask about Singapore food. Read them to get some clarity.
1. What Is The Most Famous Singaporean Food?
Ans: Apart from Chicken Rice and Hainanese Rice, the most famous meal in Singapore is Chili Crab. Every tourist that has stepped foot in the country has fallen in love with this spicy tang tangy crab preparation.
2. What Is The National Dish Of Singapore?
Ans: The national dish of Singapore is Chicken rice. It is one of the best comfort foods that you can try to eat and make at home. It is fragrant rice served with roasted or poached chicken. It is not only comforting but also extremely easy to make.
3. How Much Does It Take To Have A Full-Course Meal In Singapore?
Ans: If you are someone who wants to eat out, then Singapore can be a bit expensive for you. However, there are several fine dining restaurants in the country that serve the best food at a very high price.
However, if you want to save money while eating delicious Singapore food, then you should opt for street food stalls in the country. This is because you can spend from five to twenty dollars in the country and have a full-course meal in Singapore stalls.
Ending It On A Hungry Note!
Good food is the way to get in a good mood. That is something that we all can agree upon. However, when it comes to good food, there is one country that can never be left out. And that is Singapore. It has one of the best collections of street food.
Keeping in mind that Singapore food is a blend of major cuisines across the world, the street food here can give Michelin restaurants a run for the money.
If you were thinking about some of the best Singapore food, I hope that this article has been of help to you. Also, if there are any other queries related to the same, feel free to write them down in the comment section below.
Read Also: