SINGAPORE
Want To Taste The Best Steak In Singapore? Visit These 10 Restaurants In 2022 Today!
As a meat lover, I understand that finding the best steak in Singapore can be a real hassle if you are a tourist. With so many appetizing restaurants to visit in Singapore, you will get lost due to so many choices.
With a fat slab of steak being the go-to dish for many meat lovers, finding a steakhouse in Singapore can get tiring if you are not looking at the right places. Therefore, I believe you need a guiding light to the doors from where you can smell great steak.
Therefore, if you are new to Singapore as a tourist or you have been living here, this article is a must-read for you. Continue reading to discover the best places to get a steak in Singapore 2022.
Where Do You Get The Best Steak In Singapore?
Now that your tongues are all drooling upon hearing the name of steak, here are 10 great places to get the best steak in Singapore:
1. Butcher's Block
Address: 02-02, Raffles Arcade, 328 North Bridge Road, Singapore 188719
If you want a fat piece of steak that is well roasted, grilled, and stewed, then the name Butcher's Block should sound meaty enough. Located inside Raffles Hotel, this restaurant has a great ambiance, and the interiors look pretty stylish.
Upon progressing near the counter, you can see lots of steaks lined up for you, along with bottles of wine in its glass cellars.
My Recommendation: Try out the Wagyu Tartare, a juicy but tender steak that literally melts in your mouth. Also, try out the Japanese hamachi.
2. Opus Bar And Grill
Address: Bar & Grill, Ground floor lobby, Hilton Singapore, 581 Orchard Road, Singapore 238883
If you want a dash of Australia in your steak, then this is the place you should definitely visit. Heaven for carnivorous humans, the beef here is directly imported from Rangers Valley, Australia – a ranch famous for some of the tastiest cows in the world.
My Recommendation: Just go in with your date and order the Australian Whiskey Aged Wagyu Tomahawk steak. It weighs a whopping 1.2kg, and gets served to two fat meat lovers. In addition, a glass of wine or seared foie gras will be great.
3. Morton's The Steakhouse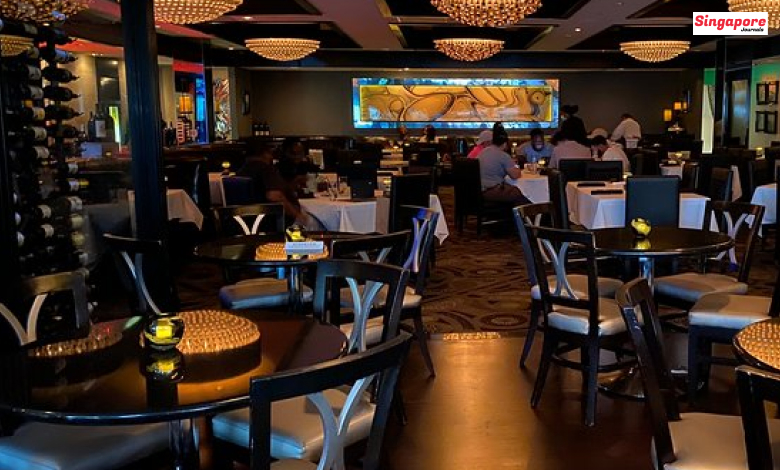 Address: Morton's The Steakhouse, Level 4, Mandarin Oriental Singapore, 5 Raffles Avenue, Singapore 039797
Morton's The Steakhouse provides excellent steak in Singapore if you feel rich today because you recently got your salary. While this place is not very pocket friendly, the Yankee-styled steaks sure feel worth the hefty price tags.
My Recommendation: Try out the Fillet Mignon alongside finely diced bacon.
4. Fat Cow
Address: Fat Cow, #01-01/02, Camden Medical Centre, 1 Orchard Boulevard, Singapore 248649
If you literally want a fat cow to be chopped into tender pieces and grilled in the oven with the perfect seasonings, then simply go and have one. Inspired by Japanese steakhouses, this is the only steak in Singapore that provides genuine Japanese Wagyu beef.
My Recommendation: With so many customization options, I would recommend going for the Saga Grade A5 Wagyu steak, prepared through charcoal grilling
5. Fat Belly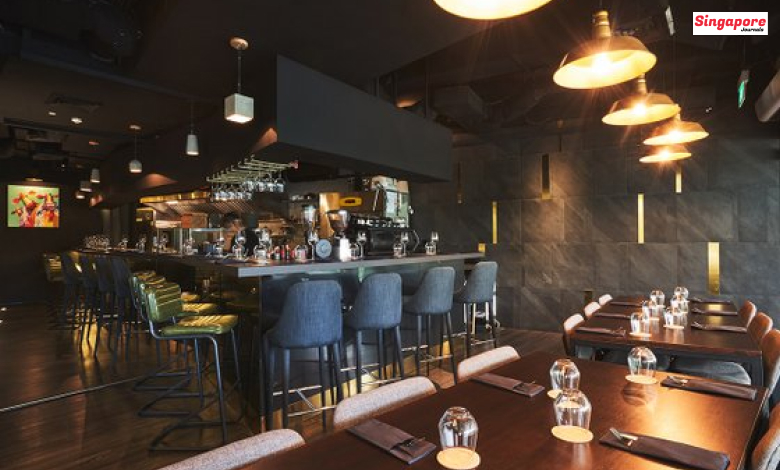 Address: 10 Jalan Serene, Serene Centre, #01-04, Singapore 258748
Now that you know about the Fat Cop, time to grow a Fat Belly too. If your group has a lot of hungry mouths to feed, then this Japanese-styled Wagyu beef roasting restaurant is a great place to dine out. With 52 seats available, this restaurant is perfect for pocket-friendly groups to make their bellies fatter with loads of meat.
My Recommendation: Try out the 400-Day Grain-Fed Marble Score 4-5 Wagyu Deckle or the USDA 150-Day Grain-Fed Angus Flat Iron ribeye cuts with Onglet side cuts.
6. Bedrock Bar And Grill
Address: Bedrock Bar & Grill, #01-05, Pan Pacific Serviced Suites Orchard, 96 Somerset Road, Singapore 238163
If you are looking for assorted varieties of steak in Singapore, then make a start with this diner. With steaks imported from Japan, America, and Australia, get an early meal since it's hard to get without standing in a queue for a long time.
My Recommendation: Get the charcoal-grilled long-bone rib-eye Steak with red wine sauce and the signature Bedrock chili oil.
7. Picanhas'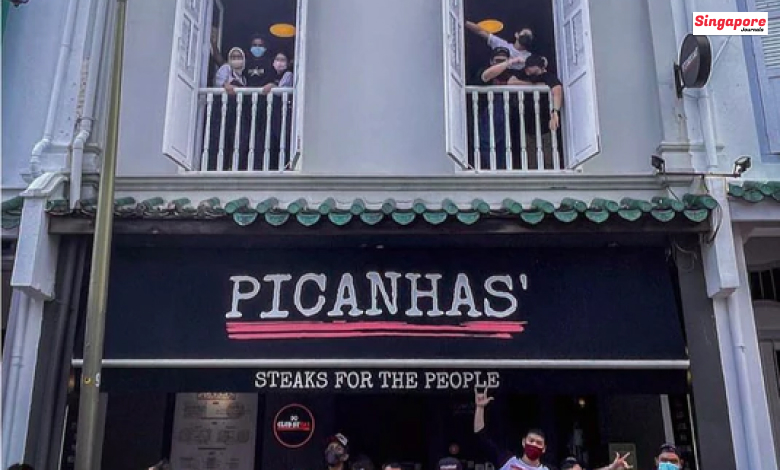 Address: 90 Club Street, Singapore 069458
With a motto of "Steaks for the people," this eatery specializes in providing Picanha beef, the best halal steak in Singapore. Fortunately, this Brazilian-style beef steak has loads of fat on top, with MasterChef Gordon Ramsay remarking, "fat is flavor."
My Recommendation: Try the Queen of Steaks, grilled with browned charcoal butter.
8. Bistecca Tuscan Steakhouse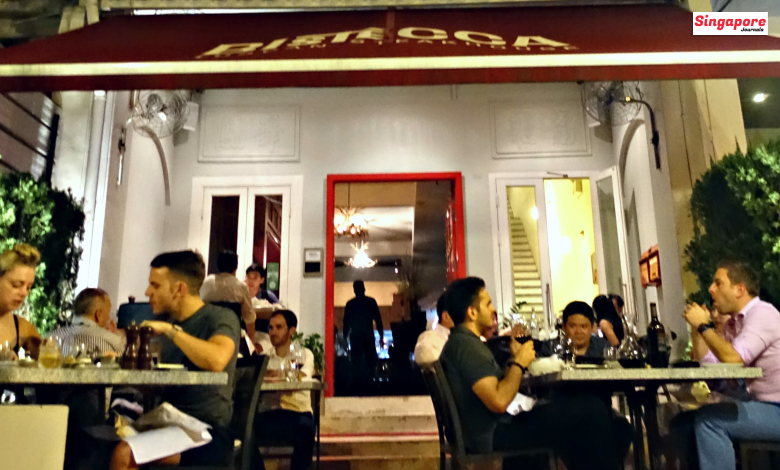 Address: 26 Mohamed Sultan Road, Singapore 238969
If you want a taste of Italia in your steak in Singapore, then this romantic diner is the best steakhouse in Singapore for a meaty date. This Florentine steakhouse also provides great pasta, seafood, pork chops, and roasted chicken as well.
My Recommendation: Try the Miyazaki A4 Wagyu striploin or the Fiorentina BMS 6 Wagyu FI T-Bone, which are grain-fed for 420 days and are dried and aged in-house.
9. iSteaks Diner
Address: #01-08/09, 50 Jurong Gateway Road Singapore 608549
If you want the best affordable steak in Singapore, then enter this tacky fast food diner. With smaller steaks that weigh only 200gms available on the menu, the striploin, rib-eye, and wagyu steak in Singapore will satisfy your hunger and your pocket as well.
My Recommendation: Get the Australian 100-Days Grain-Fed ribeye, the 600g Porterhouse, or the 1.5kg NZ OP Rib Steak if you have a bigger appetite.
10. Meet 4 Meat
Address: 228 East Coast Road, Singapore 428925
If you fancy a flame-grilled smoky steak in Singapore, then this roadside diner is Chef Jimmy's best work. The Chef's specialty is that you can try out all the steaks with different types of foie gras, which is just the cherry on top.
My Recommendation: Get the Beef Wellington (with foie gras), or the Premium EZ Ribeye.
Frequently Asked Questions (FAQ):
Q1. Which Is The Best Steakhouse In Singapore For A Date?
For romantic dates, I would recommend the Bistecca Tuscan Steak House.
Q
2. Where Can I Get A Halal Steak In Singapore?
If you want halal steak, then  I would recommend visiting Picanhas'.
Conclusion
If you are in Singapore for a holiday, or you are a native yourself, then you must visit all the great places mentioned above to get the best steak in Singapore. All these places have several different types of steak, with some added benefits as well.
You can get foie gras and halal steak as well, along with fatty cuts for those always hungry juicy meat lovers. So no matter your meaty preferences, visit one of these steakhouses to satiate yourself to the fullest and add some healthy meat to your body.
If you want to learn about more diners and steakhouses in Singapore, then read our other articles in SingaporeJournal!
Read Also: