Singapore has always been a paradise for foodies. Food lovers across the globe visit Singapore just to try different types of yummy food cuisine. In Singapore, there are so many varieties and choices that are enough to spoil your taste buds. 
People often stand in long queues just to taste those heavenly food items. One of the best things that I like about Singapore is, you will always find another place adjacent to one place that is serving similar or the exact same dish. So, you always have an option to skip the queue.
Tampines Round Market And Tampines Round Market Food Centre
Located at 137 Tampines St. 11, this place is like an amusement center for food lovers. If you are planning a holiday in Singapore and this play is not on your "To Visit" list, then trust me, you are missing a huge thing. 
Lor Mee

Complete your Breakfast at 137 Lor Mee with the satisfying portion of yellow flat noodles covered in a savory sauce. You may not like the look of it. But when they say do not judge a book by its cover, they meant it. 
It tastes much better than just the look. Once you take the first bit,e you will be blown away by the delicious taste of it. And you will recommend it to others as well.
Xin Ji Wanton Mee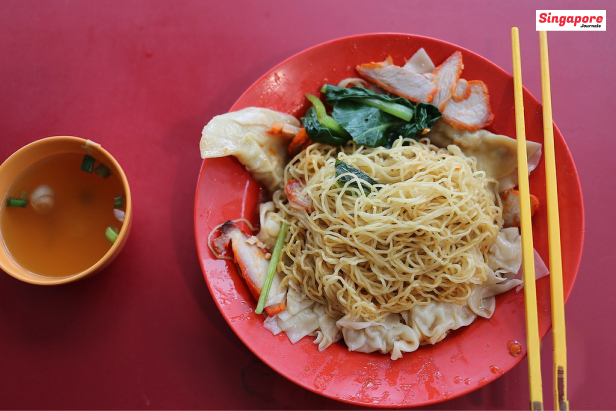 Well, if you want to soothe your taste buds and fulfill your hunger in this amazing Tampines food joint, then you need to wait for a while. This is a place where you will see a long queue almost all the time you will attempt to go.
But the food that you will get to eat here is totally worth the wait. Once you take a bite of their excellent chilis, you will totally forget to complain about the time that you have spent standing in the loooong queue.
Chai Chee Pork Porridge
On a cold day, just drag yourself out from the room, and taste the piping hot and smooth pork ball porridge from one of the famous food destinations of Tampines round market food. Chai Chee Pork Porridge. 
The porridge is really smooth and also flavourful. The generous portion of pork balls that are also marinated well is something that you will need on a cold morning. If you like century eggs, you also can pair them with porridge to make yourself full for a really long time.
Sarawak Kolo Mee
Sarawak Kolo Mee is a must-have when you are visiting Tampines round market food. This dish is prepared with pork ribs, char siew, dumplings, and of course, the yummy qq noodles. The sauce that they use in this dish is really nice and also has chili padi that is really spicy. 
If you have any friends or relatives who have been to this place, you may have received this recommendation when they get to know that you are planning to visit Singapore. But when you are going to have authentic food, be prepared to stand in a long queue.
Song Han Carrot Cake
White Carrot Cake with prawns is another extraordinary dish that you can not miss from Tampines round market food and food center. You can try this delicious dish at Song Han Carrot cake between the time of 6 am to 11 ish. You will also get to choose whether you want a black or white version of pork. 
This is the best breakfast option. But you need to keep the day in mind when you are planning to pay a visit. Avoid Mondays and Thursdays. This place remains closed during those two days in a week. The portion that you will get is worth the price that you are paying.
Wanton Mee
When you are in Singapore, how can you not have wanton noodles? And when you are thinking of having some yummy wonton noodles, you have to go to Wanton Mee. This place will offer you hot noodles that you may not have had before.
In Tampines round market food, this place is a must-visit for all noodle lovers. They serve the plate of noodles with char siew. If you want, you also can ask for more wantons. The chef's skills of mixing gravy and tossing the perfect textured noodles will blow your mind.
Some More
The list of food that you should try there will not end. So instead of making a list before you are there, reach the Tampines round market food and food court and start trying different delicious, mouth-watering dishes.
You also can try BBQ pork, wonton soup, tasty dumplings, spicy chili sambal, and whatnot. Also, do not forget to try some local and tribal dishes for some interesting experiments.
Conclusion
So, these are the places that are most reviewed and a must-visit in Tampines round market food and food center Singapore. Be prepared with some digestive medications as well. Because those saucy and spicy foods may upset your stomach, in case you are not much habituated with all of these. Enjoy every meal there and have a blasting holiday.  
More Related Topics…
Best Hair Loss Treatment Centers In Singapore

Top Famous Singapore Massage Parlour In Singapore