In this world, who doesn't love to stuff their mouth with food?
But do you know which country has the most diverse food cuisines in the world?
It's Singapore!
Tampines in Singapore is one of the most thriving towns here. This town has more food cuisines than you can think of.
Here, in this article, you will get to know the Tampines food that are a "must-try" in Singapore.
Best Tampines Food In Singapore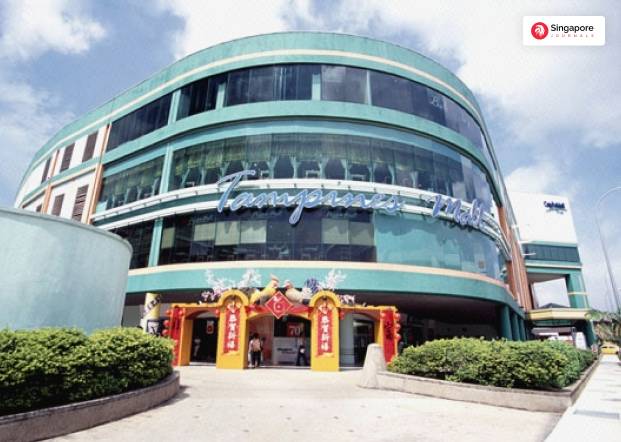 Are you planning to visit Singapore?
And are you a foodie like me and love to try different food cuisines from different parts of the globe?
Then you need to try Tampines food at any cost.
There is not a single moment you should waste finding out the best Tampines food here in Singapore, but if you are a steak lover there are a number of great options for you to get the best steaks as well. But for the best Tampines Food here, you can thank me later!
1. Sticks 'N' Bowls
This is a popular coffee shop here in Tampines, run by three friends. This shop is popular for Mentaiko Salmon Rice Bowl ($8.50). It is a dish where a portion of salmon is served with rice, slathered with creamy mentaiko sauce. 
This is a very popular cafe, and the food is very delicious all over Singapore.
Address: 824 Tampines Street 81, #01-38, Singapore 520824.
Opening Hours: Mon-Fri: 5pm-3am, Sat-Sun: 12pm-3am
Read : 2022's 10 Best Halal Steak In Singapore.
2. Old World Bakuteh
This small in Tampines initially originated from Yishun where it was just a small coffee shop. This shop is popular for their famed dish Mixed Pig's Organ Fried Porridge($5), it is a wok affair that is hei-laden which is peppered with chewy offal inside.
Address: 1 Tampines North Drive, #01-34, T-Space, Singapore 528559
Opening hours: Tue-Sun: 10am-8:30pm
Read more : Top 10 Famous Thai Food Restaurant In Singapore
3. Ho Yun Tim Sum
This restaurant is owned by an ex-hotel chef who is from Hong Kong, hence, you know the dim sum is authentic. The most popular dish from this popular Tampines hub food is the Prawn Chee Cheong Fun, which is technically a silky rice roll filled with juicy prawns inside, and costs less than $5.
Address: Blk 419, Tampines Street 41,#01-80, Singapore 520419.
Opening hours: Tue-Sun: 7 am-7 pm
4. Kuai San Dian Xin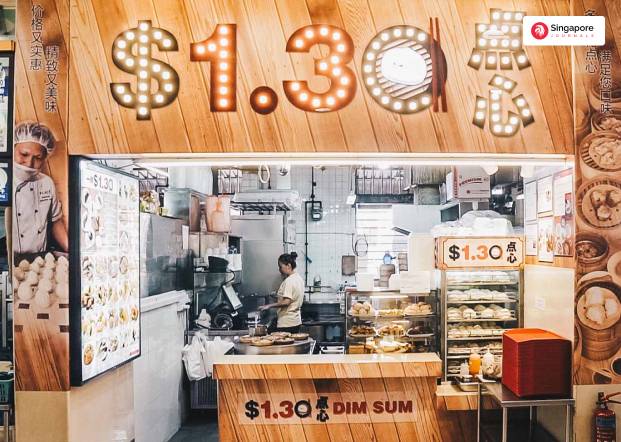 The Kuai San Dian Xin dim sum place in Singapore is one of the cheapest places to find delicious food. For food lovers, it is good news for you as this place is open 24×7.
The most delicious food you will get here is the Fried Carrot Cake($1.30), it is a crispy delight with a little hint of hae bee hiam. 
Address: 878C Tampines Avenue 8, Singapore 520878.
Opening hours: 24×7.
5. Fu Yuan Teochew Bak Chor Mee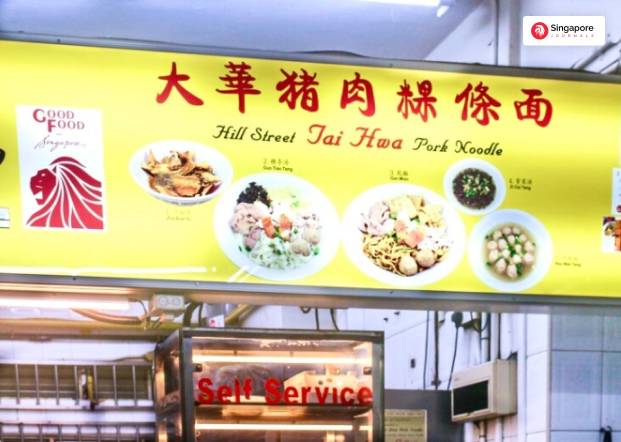 Fu Yuan Teochew Bak Chor Mee is a hawker food stall that will satisfy all your food desire with just a bowl of, Teochew Bak Chor Mee($3.50), this dish is sliced pork, liver, minced meat, and meatballs which is dipped in a full flavored soup.
Though this dish has an adequate amount of chili sauce, but this dish still has a hint of sweetness to it.
Address: 201C Tampines Street 21, Singapore 523201.
Opening hours: 5:30 am-3 pm daily.
6. Yummy Sarawak Kolo Mee
This shop is located inside the Tampines Round Market and Food Centre. This is a famous establishment that serves its signature Sarawak Kolo Mee Set($5), this dish is topped with a huge amount of fried and boiled wontons, charred Siew with thick pieces of braised pork.
On taste-wise, this noodle is far better tasting than Maggi, the braised pork is paired deliciously with noodles. This is one of the best Tampines mall food
Address: 137 Tampines Street 11,# 01-45, Tampines Round Market and Food Centre, Singapore 521137.
Opening hours: 6 am-3 pm daily.
7. Song Han Carrot Cake
This traditional establishment serves their famous handmade traditional carrot cake which is topped with curry powder, which results in a delicious blend of fried delicacy. The Curry Powder Carrot Cake ($2/3/4).
This dish has both a white and a black version. If you want to try this dish, you need to come as early as possible, as the dish gets sold out very fast.
Address: 137 Tampines Street 1, #01-07, Tampines Round Market and Food Centre, Singapore 521137
Opening hours: Tues-Sun: 6 am- 12 pm.
8. 137 Lor Mee Prawn Mee
This food stall is Tampines one food stall, which makes the most delicious Lor Mee and Prawn Noodles($3). This dish is made of the most delicious thick yellow noodles with gravy, which is topped with a huge amount of fried fish, and fish fillet with eggs.
The sauce which was topped on it is made of thick consistent fragrant garlic which is not overpowering though.
Address: 137 Tampines Street 11, #01-09, Tampines Round Market and Food Centre, Singapore 521137.
Opening Hours: 6:30 am-2 pm daily.
9. Tampines Street 21
If you are going towards Tampines Street 21, then you need to know about Mui Kee Hainanese Chicken Rice($3-$4), which drives a huge crowd during the weekends. This is Tampines 1 food, that is only available here. The dish is basically chicken rice.
Address: 264 Tampines Street 21, Singapore 520264.
Opening hours: 9 am-3 pm daily.
 10. Jin Hock Seafood
Jin Hock Seafood is one of the most popular establishments in Singapore for its famous White Bee Hoon($20). This dish is basically a huge portion of seafood which is sliced cuttlefish and prawns, and it is topped with moist portions of white bee hoon and a broth of eggs and vegetables.
Address: 844 Tampines Street 82,#01-131, Singapore 520844.
Opening hours: 10:30 am-2:30 pm, 4 pm-10 pm.
Frequently Asked Questions
When we visit a new place for the first time, there are a lot of questions in our head. Especially when we think of what we will eat there. After reading this article, I am sure that you have made your mind on trying the delicacy of Tampines food.
But at the same time, you might have some questions regarding the place Tampines.
Shoot your questions in the comment section.
We are ready to assist you.
Till then, here are some questions that a lot of people have asked me before. I am sure these will help you. 
1. Where Is Tampines?

Tampines is the third-largest town in the country of Singapore. It is in the East Region of Singapore. It is new in the coming residential area
2. What Makes Tampines Special?

The whole town of Tampines is a green town. With a lot of flora and fauna all around. Geographical features such as freshwater ponds, rainforests, open grasslands, and marshes are all present here.
3. Is Tampines A Good Area?

Tampines although being a new town in Singapore is generating quite a buzz already. It is one of the best places to stay with your family.
Ending On A Spicy Note!
Food is what brings us closer, sharing a meal together forms the strongest of bonds even among strangers. We know that good food and good friends create the best memories.
So if you are planning to visit Tampines on your next friend's trip then make sure to experience each food delicacy here. 
Read More :